Bury St Edmunds Theatre Royal cuts down on summer shows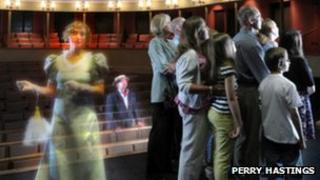 The Theatre Royal in Bury St Edmunds has decided to host fewer shows during the quieter summer months.
The Georgian building itself, which reopened in 2007 after a £5 million renovation, will instead become the main attraction and the focus of tours.
Executive director Simon Daykin said the Backstage Past tours would include interactive exhibits.
He said: "We're telling the story not just of the theatre but of the town and the social setting of the theatre."
Visitors will pay between £4 and £6 for a guided tour, which will run several times a day until 29 July.
Mr Daykin said: "What we're aiming to do is turn our programme on its head over the summer months - it's a quiet period generally for theatre.
Funding cut
"We've decided to focus on the theatre almost as a tourist attraction."
He said it was essential that the venue, which is owned by Greene King and leased to the National Trust, looked at new ways of making money.
Its Arts Council funding was reduced last year - down from £127,590 in 2011/12 to £120,000 between 2012/13 and 2014/15.
The venue is staging 24 productions this summer, compared with 32 in the summer of 2010.
"There is a challenge to all arts organisations to introduce these elements of commercialism into their programmes," Mr Daykin said.
"The world is changing, arts funding is changing."