Bury St Edmunds Festival 2012's Cultural Olympiad theme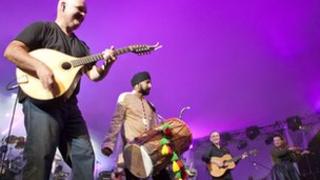 The Bury St Edmunds Festival will evoke London 2012 with an emphasis on acts from around the world and a new work written for the Cultural Olympiad.
The festival runs until 27 May, with performances across several venues including The Apex and the cathedral.
The Imagined Village collective, featuring sitar player Sheema Mukherjee, will play her new work Bending The Dark, for the Olympics.
The Britten Sinfonia will be recorded by BBC Radio 3.
Nick Wells, festival manager, said: "There are so many nationalities and cultures coming to the UK and I wanted to reflect that with lots of international acts coming to the festival.
"With The Apex opening, it's given us huge opportunities and it's attracting acts who would never have come here before.
"On the whole ticket sales are pretty good with a few things selling out and hitting their targets."
The international theme includes the Russian violinist Viktoria Mullova exploring the influence of gypsy music, guitarist John Williams and multi-instrumentalist Richard Harvey playing music from five continents from the 14th Century to the present day, Cuban pianist Robert Fonseca and west African kora player Ballake Sissoko.
The festival finale features Clare Teal and the BBC Big Band in the Abbey Gardens on Sunday 27 May.
Australian musical comedian Tim Minchin has pulled out of his Apex show on Sunday 27 May due to filming commitments, but comedian Mark Watson will replace him.