Suffolk social housing association seeks empty homes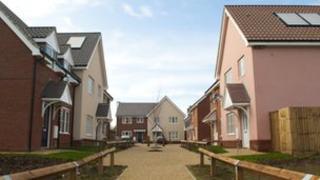 A housing association is hoping to have up to 35 extra homes available for rent in west Suffolk by buying or leasing empty houses.
The Havebury Housing Partnership has £547,000 to spend from the government's empty homes fund.
It is seeking to contact the owners of properties which have been empty for at least six months.
The homes would be refurbished and allocated to people on the council and housing association waiting list.
Karen Mayhew, Havebury's chief executive, said: "Owners don't have to sell them to us, we'd also be interested in long leases so there's flexibility there.
"We're delighted to have got this grant, but we will lose it if it's not used by the end of the year.
"It could be an important new contribution to providing more affordable homes in our area."
Havebury, which lets 6,000 homes in East Anglia, is working with the two district councils in west Suffolk.
St Edmundsbury Borough Council said it has 1,928 people on its social housing needs register, while Forest Heath District Council has 1,448.
Anne Gower, St Edmundsbury's cabinet member for housing, said: "Properties can be left empty for many reasons and can cause problems due to vandalism, not to mention the deterioration of the empty property itself."