Ipswich and Haverhill food banks face increasing demand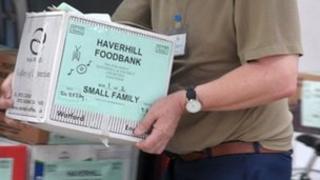 A Suffolk food bank says demand is outstripping supply, whereas it was the other way round last year.
Haverhill's service gave out 9.7 tonnes of food in 2011 and received 9.1 tonnes, whereas in 2010 it received 9.8 tonnes and handed out 8.8 tonnes.
Ipswich Families in Need (Find) has given out 556 food parcels so far in 2012, compared with 542 for the whole of last year.
The volunteer-run charities are appealing for more donations.
The Haverhill Foodbank hands out boxes which last three days to those with "unexpected need such as benefit delay and cuts or debt issues".
Henry Wilson, manager at Haverhill, said: "Obviously we carried over stock from the previous year, but in April this year we received 0.8 tonnes but gave out 0.9 tonnes.
'Great distress'
"I do have some concerns and, with supermarket collections, people are giving less than they were a year ago.
"We are addressing it by doing extra supermarket collections and the local churches have been fantastic."
Maureen Reynel, director of Find, said: "It is tough for some of these people and many of them are in great distress.
"There are more churches coming on board which is wonderful, but we need even more coming in with non-perishable goods.
"The more people become aware, the more generous they are."
Havebury Housing Partnership has a community allotment on the Mildenhall Road estate in Bury St Edmunds and said it would be providing potatoes and other fresh produce to the Haverhill Foodbank.