Woodbridge's Whisstocks boatyard project gets council backing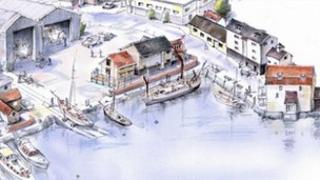 A plan to revive a derelict boatyard in Woodbridge for the community has received the backing of a local authority but they will not finance it.
The Woodbridge Riverside Trust presented a petition about the Whisstocks Project to Suffolk Coastal District Council.
The council said it supported the aim to develop the Whisstocks boatyard as a training site but could not fund it.
The owners have said they are working with the trust on the project.
Geoff Holdcroft, Conservative councillor for leisure and economic development, said: "I cannot think of anybody who does not agree that the redevelopment of the site is well overdue.
"It is unrealistic in these tough financial times to think that this council is in a position to directly buy the site, as some have suggested, but we will continue to work with the current owners [Whisstocks Development Limited] so they can swiftly put forward their own redevelopment plans.
"If they cannot, then they should offer the site for sale to a party with the ability to deliver a viable and appropriate scheme."
The council said any future development should aim to bring the slipway into the River Deben back into use.
The trust said it was confident it had enough interest from the community to try and buy the boatyard, which closed 16 years ago.