Lowestoft's Marina Theatre gets £250,000 investment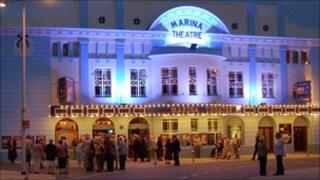 Lowestoft's Marina Theatre is to undergo a £250,000 refurbishment of its 750-seat auditorium.
The charitable trust - which took over the running of the venue in December - will repaint, replace the seating and carpets, and install a digital 3D cinema.
Waveney District Council, which owns the building, is providing £140,000 with the rest raised by the trust.
The venue is expected to close for six weeks from the end of July.
Martin Halliday, chief executive of the Marina Theatre Trust, said: "The seating may be a little bit lumpy and moth-eaten and we probably have the most revolting carpet in British theatre, so the key priority has been to enhance the experience for patrons when they come in.
"We are pleased that Waveney District Council have been able to show such great support to the trust and commitment to the theatre's future."
Stephen Ardley, cabinet member at the council, said: "The Marina Theatre is without doubt the jewel in the crown of the district and we are delighted that we have been able to work with the trustees to enable these long overdue improvements to take place."
The trust said it was not giving away what the new colour scheme would be, but hinted that the "infamous green colour of the auditorium would most definitely not be preserved".