Suffolk holiday village Thorpeness reaches centenary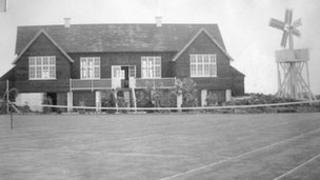 A Suffolk holiday village, which Peter Pan author JM Barrie visited regularly, is celebrating its centenary.
The Thorpeness Country Club was opened in May 1912 and the village was built around it with the aim of providing holiday homes for town-dwellers.
An exhibition on the village's history is being held in the country club, which is now part of a hotel chain.
Relatives of G Stuart Ogilvie, the founder and designer of the village, still live there.
'Whimsical'
Exhibition curator Dr Charlotte de Mille said: "Ogilvie always wanted the village to offer an escape from what he perceived to be a very commercialised and urban culture, so it was always intended to differ from a 'quick-fix' holiday in somewhere like Clacton.
"He was never that keen on day trippers and the houses were always taken for long periods.
"Thorpeness families have gone through many generations and life still revolves around the Meare [lake], tennis, golf and beach and its whimsical and quirky nature has remained."
The great grandson of the founder, Glencairn Ogilvie, who was born in Thorpeness and still lives there, said: "It's a village that people either take to or don't.
"As children you had a fantastic freedom that you don't get almost anywhere else.
"One of my great grandfather's ideas was that if children are happy, the parents have a holiday and I think that holds as true today as it did when he started the village."
The TA Hotel Collection bought the country club, golf course and Dolphin Inn in 1996.
Chairman Tim Rowan-Robinson said: "Thorpeness is a flourishing holiday resort.
"It was for middle class family holidays and it's always attracted people from a distance who wanted to spend a reasonable length of time away from home and by the sea.
"The village does have a small, but cohesive, community with a core of about 250 people who live here all year."