Webcam barn owls Mr and Mrs P have four chicks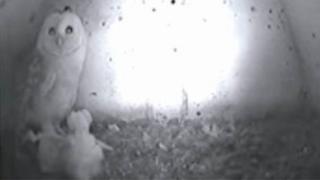 A pair of barn owls whose lives are being live streamed on the internet have produced four chicks.
The parents, nicknamed Mr and Mrs P, are occupying a nest box at Suffolk Wildlife Trust's Redgrave and Lopham Fen reserve in the north of the county.
Oka Last, barn owl adviser for the trust, said: "It's been really exciting to see how things have unfolded.
"To have this view of the secret life of Mr and Mrs P has helped people discover our barn owls."
The first of the chicks hatched on 15 May and the fourth arrived eight days later.
"There's a dramatic size difference with the chicks," said Mrs Last. "The oldest has had over a week's extra eating time."
The trust said it had been overwhelmed by the popularity of the camera, with regular visitors to the live stream website posting updates of the owls' actions throughout the night.
It has also launched a new website where people can record sightings of barn owls .