Diamond Jubilee: Bruno Peek oversees lighting of 4,000 beacons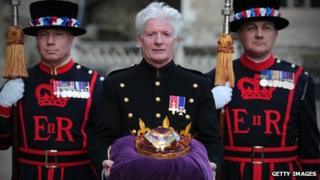 A Suffolk man has co-ordinated the lighting of more than 4,000 beacons to mark the Queen's Diamond Jubilee.
Bruno Peek, pageant master of the Queen's Diamond Jubilee Beacons, says the lighting of the beacons were a "wonderful way to celebrate".
Torches were lit across the Commonwealth between 22:00 and 22:30 BST in the UK.
Mr Peek said: "It is a celebration of the whole nation and the Commonwealth - there is so much enthusiasm."
The first torch was lit in Tonga, said Mr Peek, followed by locations including Kenya, Malta, Gibraltar and the Falklands.
"We were aiming to have 2,012 beacons but we passed that milestone about three or four months ago," he said.
'Real stars'
"The beauty of the event is we have so many different types of people taking part, from schools, those who own stately homes, the man in the street, it's really interesting the numbers and different types of communities bringing the country together in one common celebration."
Mr Peek, who works from Lowestoft and lives in Great Yarmouth, led a 60 piece military band, one musician for every year of the Queen's reign, and placed a glass cut diamond in the Tower of London.
"That will stay on public display until the morning of 4 June when it will be taken to Buckingham Palace and the Queen will then use it to light the national beacon," he said.
"She will take the diamond from the centre of the cushion and will lower it into a lighting pod.
"This will then light the diamond up from underneath. There will be several other things that go on but we want people to see that on television."
In Suffolk, about 60 beacons will be lit, including at the most easterly point of the UK in Lowestoft.
"The local authorities have been real stars because they're taking part - the vast majority of beacons are being lit by parish and town councils," said Mr Peek.
"The Lord Lieutenant of Suffolk (Lord Tollemach) has been brilliant.
"He's been egging people along, saying you've got to get involved in this, but in the end he didn't need to."
See all the latest Diamond Jubilee news and features at bbc.co.uk/diamondjubilee