Diamond Jubilee: Ipswich yacht in Thames pageant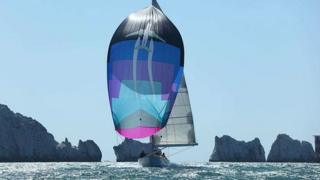 A Suffolk yacht company owner will have the only modern boat in the "avenue of sail" at the Queen's Jubilee Pageant in London.
A flotilla of boats will sail along the Thames on 3 June.
The Flight of Ufford was built by Sean McMillan of Spirit Yachts in Ipswich and it will be positioned near Tower Bridge when the Queen sails by.
A sister version of the 52ft (16m) yacht was used in the 2006 James Bond film Casino Royale.
Mr McMillan said: "I think the British do pomp and circumstance better than any other country and I've got a feeling that this is going to be one of those events that the British will pull off superbly.
"You never know quite why you get invited, but we won the Queen's Award for Enterprise in 2008 just after this boat was launched."
'Recession-proof'
Spirit Yachts was established at Benhall, Suffolk in 1993 and it moved to Ipswich in 2004.
The firm, which employs 32 people, makes two to three yachts a year ranging in length from 32ft (10m) to 140ft (43m).
"We've managed to keep going through this recession, but we're in an industry where our clients are very, very wealthy and they're perhaps slightly more recession-proof than others," said Mr McMillan.
"Orders are picking up very well now and I think we have a buoyant couple of years coming up."
Mr McMillan has a crew of four family and friends making the trip from Ipswich to London.
"The Thames estuary is not the most exhilarating piece of water - it can be dull, misty and a little on the cool side - but once you're up to the Woolwich barrier it's absolutely fascinating and going along the river is like going along a thousand years of history," he said.
"If you can learn to sail the North Sea and the Dover Straits, you can sail anywhere in the world.
"I think that's why, historically, the Dutch and the English were always the greatest sailors because they learnt to sail in these very difficult waters."
Mr McMillan said 70 sailing ships, including a Thames barge from Ipswich , will make up the avenue of sail and Flight of Ufford is the only boat built in the last 20-30 years.
See all the latest Diamond Jubilee news and features at bbc.co.uk/diamondjubilee .