Suffolk's first women church deacons celebrate 25 years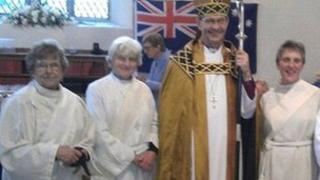 Suffolk's first women deacons are celebrating the 25th anniversary of their ordination.
The three women, who later became priests, attended a service at Grundisburgh to mark the occasion.
The Reverend Canon Sally Fogden, the Reverend Margaret Blackall and the Reverend Canon Clare Sanders were all deaconed at a service at St Edmundsbury Cathedral in 1987.
Canon Fogden, now retired, said: "It was a huge turning point."
She added: "I would hope that women becoming deacons was the first step on a road to women becoming bishops.
"We hope it can come with the same good sense that saw women become priests."
The changes made by the Church of England meant women could take the communion service for the first time, which met some opposition.
'Very painful'
Mrs Blackhall, who is also retired, said: "It was always always sad when people came to the communion rail, but turned away when they saw they were going to have to receive from a woman.
"I had one person say 'It's not you, it's the office you hold', but you had to say 'well, I'm sorry but that's who I am'."
Canon Sanders, who is now vicar of Grundisburgh, said: "For me it was a very personal thing because my father was a priest, but he couldn't accept the ordination of women either as deacons or as priests.
"He came to my ordination and sat in the pew as my father, but he wouldn't take part as a priest.
"It was very painful."
The Right Reverend Nigel Stock, Bishop of St Edmundsbury & Ipswich, said: "It's very noticeable how up and down the diocese the ministry of women is very largely accepted.
"Being a broad church, we still have a place for people who have difficulty with it, but we would not manage if we didn't have the ministry of women because we just wouldn't have enough priests."