Diamond Jubilee: Rain dampens some Suffolk celebrations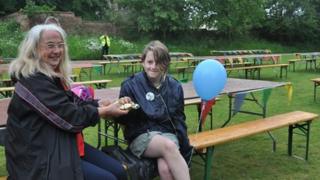 Hundreds of people in Suffolk marked the Queen's Diamond Jubilee indoors.
More than 80 roads across the county have been closed for street parties, with many more taking place on village greens and cul-de-sacs.
But the weather played a part in poor turnouts at big events including picnics at Christchurch Park and the Cornhill in Ipswich.
Events on the Felixstowe seafront and Nicholas Everitt Park, Oulton Broad, were moved indoors.
Colin Law, chairman of Oulton Broad Community Enterprise Group, said it was "standing room only" after the picnic and entertainment moved from the boulevard to the pavilion at Nicholas Everitt Park.
'Windy and wet'
"It was a marvellous atmosphere, despite the weather," he said. "People have unified in the face of diversity and clubbed in."
In Hadleigh there was a good turn out for a 1950s-style street party and in Carlton Colville children of all ages marked the Jubilee in an interesting fashion.
Teddy bears donned parachutes and were thrown from the tower of St Peter's Church.
The rain did not stop villagers in Brantham having a good time.
Reverend Stephane van der Toorn said the village had embraced the Jubilee by producing a special postage stamp and by holding an event in front of Brantham Hall.
She said: "We are outdoors. We are British."
The Felixstowe Gala in the Gardens event was moved indoors to the leisure centre, but a competition for Jubilee-themed beach huts was still going ahead.
Corrine Cappell, manager of the Seafront Gardens in Felixstowe, said: "Sadly it's very windy and wet in the gardens, so this is a damage limitation exercise."
A best dressed house competition featured in a street party in Westbury Avenue, Bury St Edmunds.
There was a good turnout but sadly the Queen had written to decline an invitation to attend.
"She's on a boat apparently," said a young girl called Alice, whose brother had sent the invite.
Please send photos of your event to suffolk@bbc.co.uk for inclusion on our website.
See all the latest Diamond Jubilee news and features at bbc.co.uk/diamondjubilee