Homeless stayed at Haverhill school before fire - council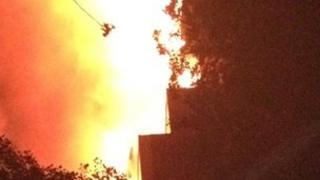 Homeless people had been staying at a former school which was destroyed by fire, Suffolk County Council has said.
Police are treating the fire at Castle Hill Middle School in Haverhill as suspicious but said the building was too unstable to fully investigate.
Suffolk county councillor Graham Newman said homeless people were not at the school at the time of Sunday's fire.
"We should count ourselves lucky that nobody has lost their life during the incident," he said.
Mr Newman said the school had been due to be demolished next week and that Suffolk County Council had tried to speed up the process after hearing of a small fire a couple of months ago.
He said: "We finally had permission at the very end of last month and had a contract in place to start work on the 11th."
It is not yet known what will replace the former school.
Fire crews were called back to the site on Tuesday night after smoke and flames were seen coming from the roof of the sports hall.
Insp Richard Hill from Suffolk Police said: "We would have liked to have conducted a full inquiry at the former school but we're not going to be able to do that.
"We have heard that there may have been people staying in it sporadically who were homeless.
"Thankfully we have checked that out and nobody was in there at the time of the fire."