Suffolk FA to invest in Bury Town's community facilities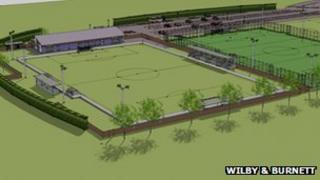 The Suffolk FA is to invest £250,000 in community facilities at a non-league football ground in Bury St Edmunds.
Bury Town is moving from Ram Meadow to Moreton Hall and hopes to have the £2.5m site open by December 2013.
As well as the club's main football pitch, there will also be an artificial pitch, education centre and car park.
The FA said it will be a development hub for youth teams and women's and disabled football.
Phil Knight, Suffolk FA chief executive, said: "This project has long since been identified as a priority by Suffolk FA as it offers a unique opportunity to develop a facility in the west of the county.
"My team and I are so excited at the prospect of working with all partner clubs to make this dream finally come true."
Bury Town has planning permission for the new site which includes the 2,500-capacity new ground and parking for 244 cars.
St Edmundsbury Borough Council is the third partner in the project and has already committed £1m.
Some of the clubs who will use the new community facilities include Moreton Hall FC, CFC Bury and Sporting 87.