Suffolk Show loses £500k in revenue due to cancellation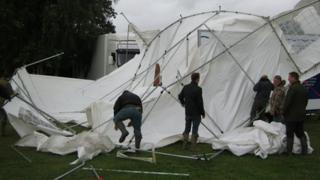 The organisers of the Suffolk Show say they lost £500,000 in revenue following the cancellation of Friday's events due to the gales.
The second day of the two-day event was called-off on safety grounds as tents were being blown away.
The Suffolk Agricultural Association (SAA), which runs the event at Trinity Park near Ipswich, said refunds are available to ticket holders.
The SAA said taking out cancellation insurance was too expensive.
Chris Bushby, executive director of the Suffolk Show, said: "The show doesn't break even - it costs around £1.4m of our money to stage it and we bring in about £1.3m, so the SAA usually spends £100,000 each year on it, whereas this year it will now cost us half a million.
"We have, on a regular basis, looked at cancellation insurance, but the premiums are very prohibitive so we don't take it out.
"We take the loss on the chin, but we're determined to make sure that next year's show is presented with the high standards that are expected."
The SAA said details about refunds for ticket-holders were available on the Suffolk Show website.
The organisers said they would deal directly with trade stand holders about their refunds.
Next year's show will take place on Wednesday, 29 and Thursday, 30 May.