Indonesia returns 89 'contaminated' containers to Felixstowe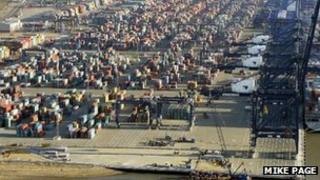 Eighty nine freight containers have been sent back to Felixstowe port after officials in Indonesia became concerned about their content.
The Environment Agency said the load - labelled scrap metal for recycling - was returned after authorities saw "seepage" from a container.
Jeff Warburton, environmental crime officer, said forensic tests were being carried out.
Each container is 20ft (6m) long and holds about 25 tonnes of materials.
Mr Warburton said: "We've identified things like wood, plastic - there are one or two other substances which we're having subjected to forensic analysis to ensure they are not hazardous.
"The goods were declared as scrap metal for recycling and the law is quite clear on this, that it's illegal to export any form of waste for disposal from the UK."
'Good news'
Mr Warburton said "one or two containers" were occasionally returned but that having 89 sent back was "an unusual event".
"It's a very large amount of waste that we need to sift through to see what they contain," he said.
"If it's a chemical it obviously has a detrimental effect to humans and the environment and we're very, very strong on enforcing legislation in respect of those offences."
Waste Watch, which is part of Keep Britain Tidy, said it was a positive sign the containers had been returned.
Tim Burns, head of the group, said: "In a funny kind of way it's good news.
"We know that unfortunately an illegal trade has built up in this area as a result of less regulation overseas."
"Often it's young people who don't earn much who are picking through the waste and potentially coming into contact with carcinogens."
A Port of Felixstowe spokesperson said: "The shipment of illegal consignments of hazardous waste places everyone in the transport chain at potential risk.
"The Port of Felixstowe provides examination facilities and works closely with all relevant government agencies to help detect and deter illegal shipments."