Super-pub plan for Lowestoft Tuttles department store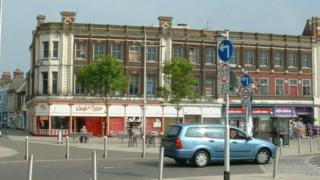 Planning officers are recommending a former department store in Lowestoft be allowed to open as a three-storey pub.
The pub chain JD Wetherspoon wants to take over the former Tuttles store on Station Square, which is currently a Weigh & Save shop.
The company said it will invest £1m in the building and it would create 50 jobs when it opens.
Waveney District Council will vote on the planning application later this month.
Eddie Gershon, spokesman for Wetherspoon, said: "Lowestoft has been on our radar for a number of years, but we've never come up with a suitable site.
"Pubs do close, but there are still around 60,000 pubs in the UK, so the overriding market is still there."
The department store closed about 30 years ago and the building has also been a nightclub and a snooker hall.
Chris Trindall, estates director for the building's owner Elizabeth Holdings, said: "It's something we have been working on with Wetherspoon for about two years.
"It would be good for that part of town and will help regenerate it."
Waveney's development control committee meets to consider the planning application on 19 June.
If approval is granted to turn the building from a shop to a pub, Wetherspoon hopes to lease it and open later this year.