MPs get 'assurances' on Ipswich Hospital debts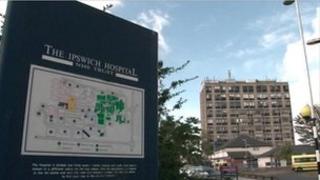 Ipswich Hospital's debt will not be written off, but local MPs say they have been assured it will not affect the foundation trust process.
Five Conservative MPs met Health Secretary Andrew Lansley to ask him to cancel £3.6m owed by the NHS hospital.
The Department of Health said the debt would not be written off.
Ipswich MP Ben Gummer said: "We were told it [the debt] would make no impact on the consideration for foundation trust status."
Foundation trust status would mean the hospital would remain within the NHS, but be accountable to a local board of governors rather than the regional health authority or the Department of Health.
Nigel Beverley is in temporary charge of the hospital after Andrew Reed stepped down as chief executive in May.
'Ball and chain'
Mr Gummer said Mr Reed had helped cut the debts from £16.8m and they had been hoping the government would help with the remainder.
Mr Gummer said: "It's owed to the Treasury and it's been like a ball and chain round the hospital's ankle and what we've got is an assurance that it won't affect the hospital going forward and that's a really important point to have won.
"We were told it would have no effect on the progress in foundation trust status and would be dealt with at the point at which the foundation trust application would be considered.
"It would be written off, we hope, when we get to that point, so the hospital has to show it can run its own affairs."
A Department of Health spokesperson said: "Ipswich is one of a group of trusts who, assuming they can meet all the other tests to become a foundation trust, could agree a plan to deal with historic financial issues with the Department of Health as they develop towards becoming a foundation trust."