London 2012: Needham Market's paralympic flame funding boost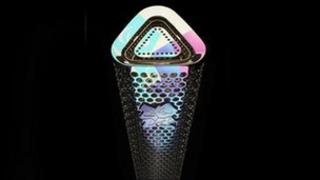 A Suffolk town has been given £21,000 to stage a party for the visit of the Paralympic Torch.
Needham Market will host the party when the torch is in Suffolk on 24 August, one of 34 places in the UK which will stage a flame celebration.
The extra money from the Arts Council will be used to hold a fireworks and music event at Needham Lake.
Zoey Furzer, Mid Suffolk council's arts officer, said: "An extra bit of funding is really just the cherry on the top."
The Arts Council money brings Mid Suffolk's budget for the event to £35,000.
The Suffolk disability charity Optua will be taking the flame around disability groups in the county on 25 and 26 August.
'Ambitious' event
Ms Furzer said: "We're hoping to commission a theatre company called Avanti Display to produce an installation including fireworks, pyrotechnics, water fountains and theatrical lighting all combined with live and recorded music right in the middle of the lake, so it's going to be quite spectacular.
"It means Needham Market will have something that everyone will remember."
The council hopes up to 4,000 people will attend.
The Arts Council money will also be used to commission semi-permanent sculptures from local artist Amy Nettleton, who is a wheelchair basketball player and the town's flame ambassador.
The Needham Market lantern is not part of a relay, unlike the Olympic Torch which is travelling through Suffolk .
The Paralympic relay involves four flames being lit in London, Edinburgh, Cardiff and Belfast which are united in the Paralympic Torch at the national centre for disability sport in Stoke Mandeville, Buckinghamshire.
That torch is then taken to the Olympic Stadium for the opening ceremony on 29 August.