Seven people rehomed after Bury St Edmunds restaurant fire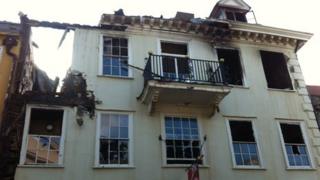 Seven people have had to find alternative accommodation after their homes were damaged by a fire in Bury St Edmunds.
Cupola House, which was being used as a Strada restaurant, was destroyed by the blaze on Saturday night.
Pat Dacey, group commander of the fire service, said three domestic properties had also been damaged.
"The collapse of the rear of the Cupola House has taken a gable wall out of some domestic dwellings," he said.
A spokesperson for St Edmundsbury District Council said the three families had been offered support and help in finding accommodation, but none had required it.
Mr Dacey said a "considerable amount" of building work required to make the properties safe had already started.
On Monday evening structural engineers removed a small part of the facade of the building.
Shops reopen
Mr Dacey said this had been "successful" in helping to preserve the building for the future.
"We're very optimistic that the long-term future for the Cupola House is that there will in time be a building there that looks exactly like the one that was there prior to Saturday's fire," he said.
Load-bearing scaffolding was being put up on Tuesday afternoon.
Twenty-seven businesses in the surrounding area have now reopened - 14 remain closed.
Clothes shop Sahara, which is next to Cupola House, is being moved to a temporary unit on Cornhill Walk with the help of the fire service.
Around 120 people inside the five-storey building were led to safety before crews arrived on Saturday. No-one was injured.