Costa coffee shop plan for Southwold blocked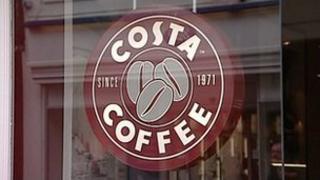 Costa Coffee has been given a "bloody nose" by the decision to reject plans for a cafe in Southwold, according to a group which opposed the proposal.
Waveney district councillors voted against the application for the coffee shop in the Suffolk seaside town.
John Perkins, secretary of the Southwold and Reydon Society, said: "It's not every day a small town takes on a High Street giant and wins, or at least gives it a bloody nose."
Costa said it was "disappointed".
The company, which is owned by Whitbread, made a change of use application for a former shop at 70 High Street to be allowed to sell food and drink.
Mr Perkins said it was a "wonderful feeling" when the council announced its decision on Tuesday night.
'Thriving business'
"Had this gone through it would have been a tipping point, it would have led to a flood of High Street chains saying let's open up in Southwold, apply for a change of use and start selling sandwiches and pies," said Mr Perkins.
"We don't want to become just like any other High Street in the country - that would kill it."
The Southwold and Reydon Society, which aims to "protect the character and amenities" of the area, said there were already 20 outlets selling coffee on the High Street.
Waveney District Council said it had received 83 objections to the application and two letters in support.
It said the decision to reject the application was made in the belief the coffee shop would be detrimental to the "viability and vitality" of the town centre.
A spokesperson for Costa said it would wait for the council to detail the specific reasons for the refusal before considering an appeal.
"We believe having a thriving business, such as Costa, on the High Street would be a positive addition to Southwold and the local community," the spokesperson said.
"The new branch would have led to increased footfall for the area and ultimately would have created jobs for local people."