Noise row victory for Bramford Royal British Legion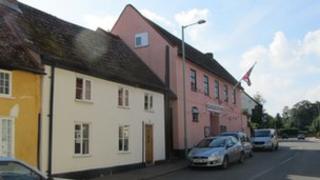 A Royal British Legion club has won a court victory in a row over night noise levels at its Suffolk village base.
A neighbour in the village of Bramford claimed its live music was too loud and Mid Suffolk District Council then served a noise abatement notice.
But magistrates quashed the notice ruling the council had delayed its action for too long after serving the notice in 2010.
Neighbour Colin Hayward said he hoped the club would monitor noise levels.
'Hollow victory'
The club said it had spent £10,000 on soundproofing but a third of its £120,000 annual turnover was from live music nights.
Club chairman Roy Clover said the decision by magistrates in Ipswich was "a hollow victory".
Each party has to pay its own costs and the Legion said its legal bill runs to "five figures".
"We've won, and rightly so, but it's cost us an enormous amount of money," said Mr Clover.
"We've done an enormous amount of work with insulation and we've got a noise meter which, if it goes above a certain level, switches the mains off."
Mr Hayward's house is attached to the club and he lives there with his wife and two young children.
He said: "They have made some difference, but we're still disturbed by the noise, not to mention people knocking on the door and running off when they're leaving because they obviously find it highly amusing that we should even be concerned.
"All we've asked them to do is be respectful neighbours and they could have just turned the noise down a bit.
"No-one's actually come round from the Legion and said 'Can we experience the noise from your side?' - it would take two seconds."
Mr Clover said: "If Mr Hayward is amenable to talks, then I can't see why not."
Sue Herne, environmental health officer at the council, said they were "disappointed" the judge had dismissed the noise abatement notice on "a technicality".
"On a number of occasions we contacted the club to try and work together to reduce these noise levels, but after several failed attempts, we had no choice but to serve the notice," she said.
"We hope the measures that the club has undertaken to reduce the noise levels will continue to make a difference."