Lowestoft Air Festival wants more spectators to pay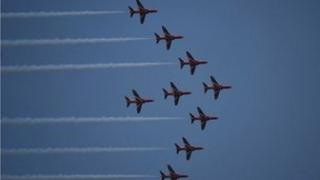 Organisers of a Suffolk air festival which attracts up to 240,000 spectators a day say not enough people are making voluntary donations.
The Lowestoft Seafront Air Festival, which takes place on Saturday and Sunday, hopes to boost funds this year by charging £3 for a programme.
Festival director Paul Bayfield said £115,000 was donated last year from 362,000 spectators over the two days.
He said: "We must squeeze this money out of visitors."
Mr Bayfield said the festival, which traditionally relies solely on donations, costs between £278,000 and £330,000 to put on.
Last year's event was marred by heavy rain and this year the outlay will be at the upper end of the budget due to it being held at the weekend.
"Just about everything has additional fees or charges," Mr Bayfield said.
"There are unfortunately some people who like to take rather than take part, and this year we're hoping to put those people in the minority."
Mr Bayfield said the programme, which also features offers for local attractions, will hopefully increase the income.
The show will star the Red Arrows, a Battle of Britain memorial flight and an RAF Typhoon.
Mr Bayfield said: "There are lots of events out there who haven't been allocated the RAF Red Arrows at all this year, so we're very pleased and humbled that they're supporting us."