On Landguard Point: Cultural Olympiad film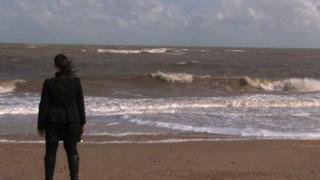 A feature-length film produced as part of a £500,000 Cultural Olympiad project for East Anglia is getting its premiere.
The Pacitti Company's film On Landguard Point is part of a wider project of the same name made for London 2012.
The 80-minute film features performance, myth and contributions from East Anglians as well as a soundtrack by Michael Nyman.
Its first showing is at the Ipswich Film Theatre on Thursday, 21 June.
Robert Pacitti said On Landguard Point aimed to explore the idea of "home" and it is named after a spit of land at Felixstowe.
More than 600 people took part in the film, which the producers said was the culmination of the whole project which was funded by the Arts Council.
'Sense of place'
Mr Pacitti, who was brought up in Ipswich, said: "It takes us on a journey across the east of England, but it's not a story - it's my love letter to the place I call home.
"Gradually through the film we start to accumulate a sense of place and belonging, so the land really is the star as well.
"It represents an awful lot of people's trust in a piece of art they haven't seen yet, so it's a fantastic collective project."
Michael Nyman also wrote a piece of music for the wider project, again called On Landguard Point, which he performed at Felixstowe's Spa Pavilion last year.
The film will also be shown at venues in Harwich, Norwich, Cambridge and Watford as well as at the Latitude Festival in Suffolk.