RAF veteran recalls escape from burning plane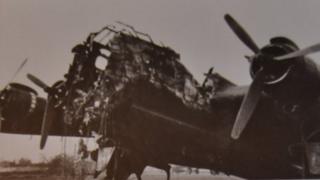 A Suffolk man who was seriously burned when his plane was shot down in World War II says he still thinks about how he failed to save the life of his crew member.
Douglas Vince was 22 when his Stirling aircraft was attacked on the way back from a mission in Germany.
Mr Vince, who is now 89 and lives in Felixstowe, says he clearly remembers the night of 23 February 1945.
He was working as a flight engineer on the plane which was followed back to England by a German fighter.
It waited until the British plane turned on its lights ready to land at Shepherds Grove near Bury St Edmunds.
Mr Vince said: "There was a terrific bang and I realised we were on fire. It got a really good hit at us, with machine guns and cannon.
Severe burns
"I grabbed the fire extinguisher - it was hot and burnt the middle out of my hand.
"The pilot kept control of the plane and landed it, on fire."
Mr Vince said he was overcome by fumes and smoke as he tried to push the rear gunner, Mick, out of the front of the plane.
When he regained consciousness he saw a pair of feet climbing out of the escape hatch. He followed, thinking Mick was heading to safety.
"I thought he was getting out, but he wasn't," said Mr Vince. "The smoke got to him and he wasn't as lucky as I was."
Mr Vince said he tried to tell his commanding officers that Mick was still in danger, but was told he had left the plane.
"I tried and tried to tell them that he was in the plane but they wouldn't have it," he said.
"In my dreams I've saved his life many times, by doing things differently."
Mr Vince was left with severe burns and spent several weeks in hospital.
The people who were among the first to benefit from the surgery labelled themselves the Guinea Pig Club.
Many have continued to stay in touch, although Mr Vince said that fewer than 40 of the original 630 members are still alive.
He said his burns, and being asked about them, serve as a reminder of the war - and especially the night his plane was shot down.
"The bit I remember is that I didn't manage to save his life," said Mr Vince.
"I lost quite a few very dear friends flying but it was something you had to live with.
"I don't feel any animosity towards the German people, though. Even the fellow that shot us down - he was doing his job as we were doing ours."