Hartismere Hospital, Eye reopens as health centre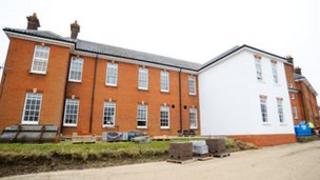 A former Suffolk community hospital is re-opening as a health centre after a £1.5m refurbishment.
Hartismere Hospital in Eye closed to in-patients in 2006 and it is now the Hartismere Health & Care building.
Its services include podiatry, continence, mental health, diagnostics, rehabilitation and retinal screening.
The Gilchrist Birthing Unit and complementary medicine service have moved to the centre from the site's former Gilchrist Building.
Julie Morgan, project officer for NHS Suffolk, said: "It was a workable building but it was very dated.
"We've rationalised the services on the site and we've brought them all into the main building."
Iris Overall, chairwoman of Hartismere Hospital League of Friends, said: "We are all delighted that this refurbishment has been completed and we look forward to the building continuing its vital role in providing NHS services to the local community as it has done since 1948."
Hartismere is hosting an afternoon of events to show the public around the new centre on Saturday, 30 June.
The NHS is planning to sell parts of the hospital site to developers for nursing homes and housing.