Neptune Sailing centre on Orwell survives Suffolk cuts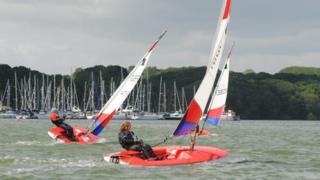 A Suffolk sailing centre which lost its funding during public spending cuts has set up as a charity.
Neptune Sailing, at Woolverstone on the Orwell estuary, provides training to adults and youngsters.
The council cut the funding of about £10,000 a year as part of its divestment programme.
Volunteers have formed a charity to carry on running sailing courses for a range of groups, including children excluded from school.
Mick Leverett, chairman of Neptune Sailing, said: "Everybody's rallied round and we feel we've got a great future.
"The youngsters learn to sail, the spirit of friendship, comradeship and communication which goes through life with them and many youngsters have gone abroad to work in sailing."
'Learning and laughing'
Neptune said it will need about £20,000 a year to run and it will get that from fees charged to groups and members and, as a charity, it can now apply to various funding bodies.
Stuart Harrington-Rutterford, water sports manager for Suffolk County Council, said: "The volunteers have all stepped up to the plate and the council has worked very hard to help create a new organisation."
The Neptune Sailing has 34 boats and its youth group has about 60 members.
Tabitha Parker, 12, a Neptune member, said: "I have been taught to sail by Neptune for four years now and it's fantastic fun to sail with your friends, and we spend every session learning and laughing."
The county said it has given the new charity the equipment it owned, but which had been used by Neptune.
Neptune was formed in Ipswich docks in the 1960s and it works with groups including the scouts and other youth movements, pupil referral units, private and state schools and the Woolverstone Project which provides sailing for people with disabilities.