John Peel Centre in Stowmarket closes for £1m rebuild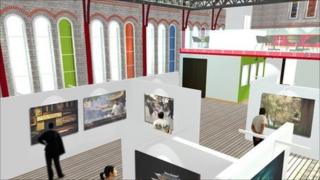 The John Peel Centre in Stowmarket is closing for six months for the major part of its £1.2m refurbishment.
This £1m phase of the project to transform the town's Corn Exchange into an arts venue will see a mezzanine floor, bar, toilets, lift, wooden dancefloor and offices fitted.
The centre managers hope the centre will re-open by Christmas.
Peel, a legendary BBC Radio 1 DJ, lived in the Stowmarket area for many years before his death in 2004.
Andy Stringer, chairman of the John Peel Centre for Creative Arts, said: "As the building works are going on we will be fund-raising and our exhibition trailers will be out and about at various places, including the Latitude Festival.
"It has been awe-inspring the amount of people who get what we want to achieve and are prepared to put their hand in their pocket to make it happen.
"We're hoping that for a lot of people and organisations it's going to be their spiritual home."
The centre has already hosted performances by some of Peel's favourite acts, including Billy Bragg and The Wedding Present.
The venue's final concert before it closes will feature Peel's widow, Sheila Ravenscroft.
She is a member of the Stowmarket Chorale which is performing Haydn's The Creation on Saturday, 30 June.