Haverhill murder trial: court hears carer used hammer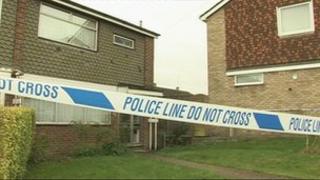 A carer beat a 77-year-old man to death with a claw hammer at his Suffolk home after he changed his will in her favour, a court has heard.
Paul Norfolk was found at his Castle Lane home in Haverhill in December.
At Ipswich Crown Court Bunthawee Rimmer, 49, also of Castle Lane, denies a charge of murder.
The prosecution said the defendant rained blows on Mr Norfolk's head and was found alongside him with her throat slashed. The trial continues.
Andrew Jackson, for the prosecution, said the police entered the house on 30 December after being contacted by the victim's brother.
Mr Jackson said the victim lay injured for some 15 hours following the attack and that the defendant did nothing to seek help.
Slashed own throat
"She did it by raining blows onto his head using a 16 ounce claw hammer," Mr Jackson told the jury.
"He did not move. He did not struggle. He was probably asleep when he was murdered."
The court heard that less than three months earlier, Mr Norfolk had changed his will to leave his house and most of his money, worth £340,000, to Ms Rimmer instead of his wife Esme, who had suffered a stroke and the early onset of dementia.
Mr Jackson told jurors: "You may think money played a rather important role. Whether or not she killed him for his money only she knows."
The prosecution said the defendant had moved in to Mr Norfolk's home in 2010 to help care for his wife who had then moved to a residential care home.
The court heard that after the alleged attack, the defendant drank toilet cleaner, stabbed herself in the chest, slashed her own throat and swallowed tablets.
Mr Jackson told the court: "You will hear claims that she was suffering from some form of mental illness, some form of depression.
"This was a quite deliberate, brutal and sustained attack - at least 12 blows with that hammer which would have taken some time."
The court heard the defendant had been married to Geoffrey Rimmer, a friend of Mr Norfolk's who died of natural causes.
The prosecution said the defendant told police she had then started a relationship with Mr Norfolk but he had been abusive towards her.
The trial is expected to last up to three weeks.