Suffolk head teacher at centre of laptop probe retires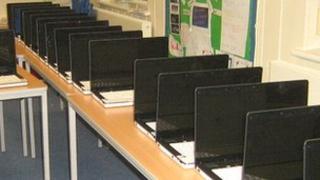 A Suffolk head teacher has left her school after it was billed for £500,000 for what it thought were "free" laptops.
Glemsford Primary leased 100 computers, but the deal meant it owed money to Clydesdale and Grenke banks.
Head teacher Liz Steele was suspended by Suffolk County Council pending an investigation earlier this year.
She has now retired and taken her pension and the council has decided to stop its investigation.
The council has also stopped an inquiry into her son James Loker-Steele, who was an IT technician at the school, as he has also resigned and found a new job outside the education system.
A Suffolk County Council spokesperson said: "As a direct result of their resignations, we have carefully considered whether or not it is in the public interest to pursue the issues at the heart of the investigation.
'Like a bereavement'
"We have concluded that, on balance, it is not.
"The council is still negotiating with the banks to resolve the debt issues and this work will certainly continue for some time."
Ms Steele, 60, said she was "relieved" the investigation was over.
"I'm sad that my career's ended like this and after 17 years at Glemsford it feels like a bereavement," she said.
"The whole computer deal was a muddle and there are so many other schools involved."
The case came to light as part of an investigation by BBC Radio 5 live .
A City of London Police spokesperson said its fraud investigation into deals involving several UK schools was continuing.
Suffolk County Council said an new interim board of governors had been appointed at Glemsford Primary and new acting head teachers would be in place for the autumn term.