Suffolk nature projects receive share of £365,000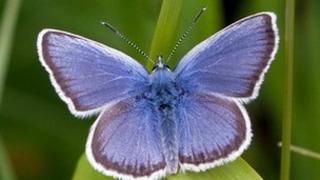 More than £365,000 has been awarded to two nature conservation projects in Suffolk.
The RSPB has been given £249,977 to restore habitats for species including water vole, lapwing and otter around the Alde and Ore estuary.
Butterfly Conservation received £116,526 to improve heathland sites for moths and butterflies around Ipswich.
The money was allocated by Wren, which awards grants generated by landfill tax.
Kim Gutteridge, RSPB grants development manager, said the money would help pay for a new rotary ditcher, which will be used for the creation and restoration of wetland habitats.
"(The machine) will be used widely across the country by the RSPB, other conservation organisations and landowners, to create ditches, shallow pools and drains - crucial components in wetland creation."
Butterfly Conservation will use its grant to improve habitats at 14 heathland sites in Ipswich for butterflies and moths, including the silver studded blue butterfly.