Beverley Farrow strangled by Darren Hunt, inquest rules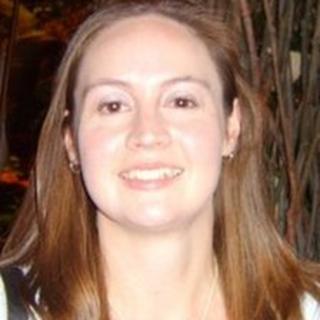 A British Telecom worker strangled a colleague during a lunch break before killing himself, an inquest has heard.
The bodies of Beverley Farrow, 31, of Kesgrave, near Ipswich, and Darren Hunt, 43, were found last December at Hunt's home.
Hunt strangled Mrs Farrow, with whom he had wanted a relationship, before killing himself, the inquest was told.
Coroner Dr Peter Dean ruled that Mrs Farrow was unlawfully killed and Hunt killed himself.
Giving evidence to the hearing, senior investigating officer Det Supt John Brocklebank told how Mrs Farrow and Hunt were both IT professionals working for BT in Martlesham, near Ipswich.
He said the pair were friends but added: "Darren wanted a more intimate relationship with Beverley. There's clear evidence that she did not."
He told the hearing how police broke into Hunt's home in Walker Chase, Kesgrave, during the night of 8 December 2011 after Mrs Farrow's husband Daniel reported her missing.
Inside, they found Hunt hanged in the garage with a bottle of whisky lying nearby.
Restraint item
Police found the body of Mrs Farrow on a bed upstairs. Next to her was a note police believe was written by Hunt.
It said: "Sorry world, and those who tried to help me. Sorry Ma, it's not your fault."
The note also said he "never could get the hang of Thursdays".
Det Supt Brocklebank told the hearing how Hunt had purchased "an item capable of being used for restraint" the day before the pair were found dead.
He said the cause of Mrs Farrow's death had been "compression of the neck", adding there was bruising to her forearms and wrists consistent with being restrained.
"No evidence has been found Beverley Farrow intended to take her own life," said Det Supt Brocklebank. "To the contrary, she had everything to live for."
He said despite extensive investigation into emails and mobile telephone records, there was no evidence the pair had "anything other than a close friendship".
On the day the pair died, Mrs Farrow had sent a message to her husband telling him she was having a lunch break with Hunt.
Mr Farrow had returned to their home in Jennings Drift, Kesgrave, with their young son to find Mrs Farrow was not there.
He tried to call both Mrs Farrow and Hunt on their mobile phones without success, the hearing was told.
He then went to Hunt's nearby home but was unable to get a response. He then alerted police.
Greater Suffolk Coroner Dr Peter Dean said: "It is difficult to think of circumstances more devastating than this."
A statement from Mrs Farrow's family said: "She was a beautiful, sweet natured person who liked everyone and would harm no-one.
"She was a beautiful, sweet, darling wife, a fantastic, natural mum who loved dancing, rolling around and having fun with her son, with whom she had a truly special bond.
"We cannot express how devastated we are over the loss of Bev, who was so cruelly taken from us.
"Our lives have been turned upside down and will never be the same."