Ipswich Indian Summer Mela cancelled in heavy rain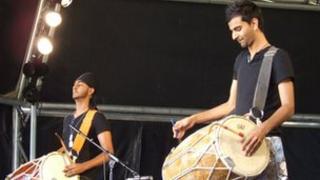 The annual Indian Summer Mela, due to celebrate its 10th anniversary in Ipswich, has been called off due to wet weather.
Thousands were expected at Christchurch Park from midday for a celebration of art, history, music, food and dance from the Indian subcontinent.
The free event was established in 2002 as a small Indian Bazaar in Kesgrave.
Ipswich Borough Council said torrential rain had created pools of water in the park.
A spokesman added: "It is with great regret that we took this decision but the rain overnight was so heavy there are pools of water in the park this morning and the weather is still very poor.
"We could not risk serious damage to the park by heavy vehicles moving on and off site."
The Mela, a Sanskrit word meaning "to meet", was originated by the Ipswich and Suffolk Indian Association (ISIA) and now forms a key part of the Ip-art arts and cultural festival in June and July.
Sunday's event was due to include Indian dance, songs, music and poetry, yoga and Bollywood workshops, a market and an Indian food village.