Rare fen raft spiders breeding in Suffolk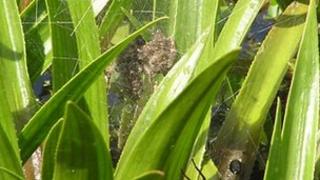 Conservationists say a rare spider they have reintroduced to a Suffolk nature reserve has started breeding.
The Suffolk Wildlife Trust began introducing fen raft spiders, which had been bred in captivity, to Castle Marshes reserve near Beccles in 2010.
They have now found four nursery webs each containing about 200 spiderlings.
Dr Helen Smith, project leader, said: "This is a major milestone in our work to establish new populations of this beautiful but extremely rare spider."
Dr Smith has bred about 3,000 spiders in her kitchen in individual test tubes until they were three months old.
They have also been released at Carlton Marshes and Redgrave & Lopham Fen which are also in the Waveney valley.
'Best indication'
The nurseries are tent-like webs which adult females have built on water soldier plants to care for their young in.
Dr Smith said: "Although it's still early days for assessing whether the new population in Suffolk will thrive, this is the best indication that this is a suitable new home for the spiders."
The spider was first identified as a distinct species at Redgrave & Lopham in 1956, but it died out there.
The project to reintroduce it is part of Natural England's Species Recovery Programme, which is also working with the Sussex Wildlife Trust at its Pevensey Levels reserve.
David Heaver, from Natural England, said: "[This news] is an important step towards our goal of ensuring these spiders are no longer at risk of extinction, and because some of these rich wetland sites have such good accessibility the spiders can be seen and enjoyed by many more people."