Bury St Edmunds skate park's funding promise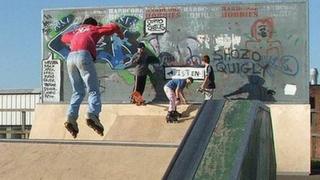 Funding of up to £150,000 has been promised for the resurfacing of a skate park in Suffolk.
The facility at Olding Road, Bury St Edmunds, which dates from 1999, is decaying and uses want to replace the wooden boards with a new concrete surface.
St Edmundsbury Borough Council has guaranteed to fund half of the project, which could cost £300,000.
The Bury Skate Park Experience group now has to raise the rest of the money.
Ben Gray, a spokesman for the group, said: "We're really pleased we're getting the money from the council and it is arguably the most-used facility for young people in the town and surrounding area.
"We raised £50,000 for a bicycle track and it took a year, so we have the knowledge and confidence to approach local businesses, the national lottery and other organisations, but we're not putting a target date on it.
"We'll also be doing our own fundraising, such as packing bags at local supermarkets and washing cars and we will charge £3 entry for this year's Jam event."
The council said it would provide half the funding up to a maximum of £150,000.
Robert Everitt, St Edmundsbury Borough Council's cabinet member for young people, said: "I am incredibly impressed by the way the users are all working together to raise funds and St Edmundsbury will be looking to match what they raise."