Felixstowe Spa Pavilion group's plan facing rejection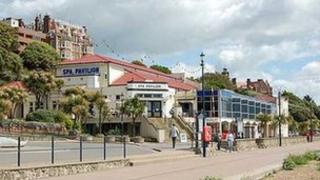 The only group bidding to take over the running of a Suffolk theatre looks likely to have its plans rejected.
The Spa Pavilion in Felixstowe is threatened with closure after owner Suffolk Coastal District Council voted to end its £250,000 annual funding.
Officers at the local authority say the proposals from the Spa Pavilion Associates community group are not financially viable.
It is recommended councillors vote against the bid on 24 July.
Councillor Geoff Holdcroft, cabinet member at the Conservative-controlled council, said: "The conclusion of our officers who have thoroughly reviewed the bid is that it is fundamentally flawed in many ways and would be far too financially risky for this council to give its backing to.
"This proposal would almost certainly leave the council needing to find even more money to support the Spa.
'Disappointed'
"I believe we have no choice but to return to the market... there could well be a buyer that will take it on for other uses, although we will not want to see it as just homes or offices."
Lisa Hardy, spokesperson for the Spa Pavilion Associates, said: "We are disappointed to learn of the recommendations, but appreciate that Suffolk Coastal District Council are in a very difficult position, both financially and in their responsibilities to the communities of Felixstowe and the surrounding area.
"However, given the opportunity to develop our proposals, we believe that by working with the council this issue can be overcome."
The council has said it will meet the bidding group again the day after the vote.
The current venue management contract with Openwide Coastal finishes at the end of the year.