The Traverse reopens to pedestrians following Cupola House fire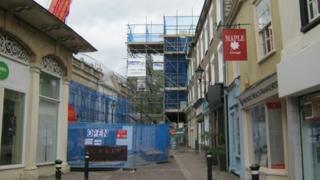 Shopkeepers in Bury St Edmunds who saw business slump as a result of a fire at a restaurant last month are celebrating the reopening of a road.
The fire at Cupola House resulted in the part closure of The Traverse, as scaffolding and a crane were used to stabilise the listed building.
Kate Palliser said her Scarlet shop had been busy since the road reopened to pedestrians on Wednesday.
"It's great news - things are getting back to normal," she said.
Ms Palliser's shop was closed for six days following the fire at the Strada restaurant on 16 June.
She said the part closure of The Traverse led to a 90% reduction in customers.
The 80 tonne crane which had been lifting material out of the five-storey building left on Tuesday.
Three shops - Jessops, Sahara and Bella Lingerie - remain closed.