Ipswich Indian Summer Mela rescheduled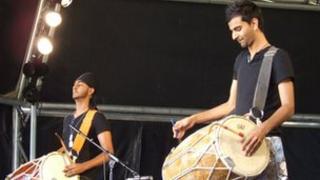 The Ipswich Indian Summer Mela, which was cancelled earlier in the month due to wet weather, has been rescheduled.
The annual event had been due to be held at its usual Christchurch Park location on 8 July.
It will now take place on the Cornhill in Ipswich on Monday 27 August.
Poli Mohan, from organiser Ipswich and Suffolk Indian Association, said: "The good news is most of the stall-holders are willing to come back, and the entertainers as well."
Ms Mohan said it would be "difficult to organise it again in the park just in case the weather goes again".
She said a stage would be erected on the Cornhill and stalls would be placed along Princes Street.
The Mela, which is celebrating its 10th anniversary in Ipswich, traditionally features Indian dance, songs, food, music, poetry, yoga and Bollywood workshops.