Felixstowe Spa Pavilion: Group withdraws single bid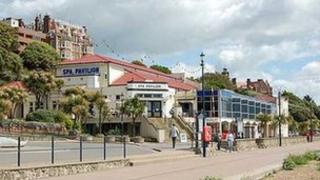 The only group who showed an interest in taking over the running of a Suffolk theatre has withdrawn its proposal.
The Spa Pavilion in Felixstowe is threatened with closure after owner Suffolk Coastal District Council voted to end its £250,000 annual funding.
The Spa Pavilion Associates said it was "pointless" for the council to appraise its plans after they had been called "fundamentally flawed".
The group said it would consider bidding again at a later date.
Spokesperson Lisa Hardy said: "Despite our best endeavours it became clear to us after we had submitted the bid that our finance plan was not viable.
"We did hope that the council could consider revised financial figures from us, but we understand that legally they can only look at what was submitted by the closing date of the process."
Officers at the local authority had recommended councillors vote against the bid on Tuesday.
Geoff Holdcroft, cabinet member at the Conservative-controlled council, said: "If cabinet backs the proposal to widen our net to try and attract someone ready and capable of taking on the Spa, then I look forward to Lisa and her team uniting the expertise and business acumen in Felixstowe to generate a new bid."