Lowestoft Air Festival cancelled for 2013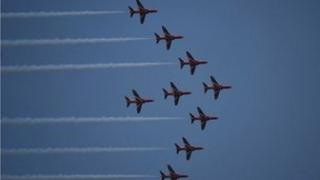 Next year's Lowestoft Air Festival has been cancelled after poor weather and lack of business support hit takings.
The two-day event draws thousands of visitors to the town but was held at a weekend for the first time last month to avoid clashing with the Olympics.
The event is free but business sponsorship and donations collected from visitors fell short of what was needed.
Only one third of expected visitors saw the Sunday displays on 24 June.
Managing director Paul Bayfield said: "We do not have sufficient funds to go ahead with an Air Show next year.
'Uncharted territory'
"The event has been running for 16 years and has only survived that long because of the wonderful support that has been forthcoming.
"Unfortunately this year we have become another victim of the vagaries of the British weather.
"We knew that 2012 was going to be a challenge and would take us into uncharted territory.
"The event was moved to a weekend in June for the first time this year to avoid a clash with the Olympic Games.
"Although we realised that there were some risks associated with this decision we were keen not to have a 'fallow year' as this might have meant losing momentum."
Waveney Council leader Colin Law said he was "shocked" at the announcement.
"I know that work will continue to save the event and I personally believe that no stone will be left unturned by Paul Bayfield and his team.
"This is one of the town's great events and I imagine it will not disappear without a very great struggle."