Wolsey's Gate in Ipswich covered in graffiti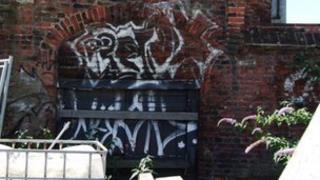 A piece of Tudor Ipswich, built by Henry VIII's chancellor, has been covered in graffiti.
Wolsey's Gate on College Street, which dates from about 1533, has been daubed with paint.
The gate and the neighbouring church are all that remain of Cardinal Thomas Wolsey's plans to create a college in his hometown.
Ipswich Borough Council's conservation team said it is confident it can clean the brickwork successfully next month.
The front of the gate on College Street is untouched, but the paint has been put on the rear which backs on to a car park.
Rubbish is also piled up to the rear of the gate.
'That is intolerable'
Dr John Blatchly, chairman of the Thomas Cardinal Wolsey Project, said: "There is a barrier, but that obviously doesn't work and people have gone in and graffitied not only the back of the door, but also the Tudor brickwork and that is intolerable.
"Tudor bricks are not anywhere near as strong as modern bricks and they're also very porous, so if people graffiti it, it sinks in deep, which is tragic and irreversible.
"I want it cleared and then some sort of permanent barrier made, so that at least the Tudor portion is inaccessible to anyone who doesn't understand it or value it as we do."
Ipswich Borough Council, which has responsibility for looking after the gate, said it will start removing the graffiti next month.
Gail Broom, senior conservation officer the council, said: "It will be an inch-by-inch process and our conservator will have to test lots of different removers, but he is confident the graffiti will come off.
"We've reached agreement that the rubbish will be removed on Monday and the council is in active discussions with the landowner to secure a future for the site."