Brandon cocaine trial: Frederick Colverson found guilty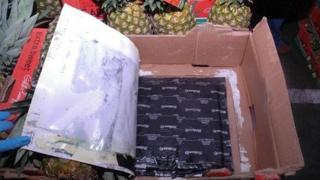 A man has been found guilty of conspiring to supply class A drugs, after cocaine with an estimated street value of £34m was found in Suffolk.
Frederick Colverson, 56, of Tower Hamlets, London was found guilty by the jury at Ipswich Crown Court.
The 174kg of cocaine was hidden in boxes of imported pineapples, which were intercepted by police at an industrial unit in Brandon.
Colverson is due to be sentenced on 7 August.
During the week-long trial, the court heard how the drugs were found under false bottoms in boxes imported to Felixstowe from Costa Rica.
Det Insp Benny Benford said: "It's an excellent result.
"It's the largest seizure of class A drugs in Suffolk. Drugs cause misery within our communities and it's a nice feeling to know that we've taken such a large quantity off the streets."
Terrance Smith, 57, of Ethelreda Drive, Thetford, who was at Brandon to meet the lorry, pleaded guilty to the same charge at an earlier hearing.
The court had heard that police were waiting for the lorry to arrive in Brandon following a tip-off from Smith's estranged girlfriend.