Copdock & Washbrook bowls club theft could mean closure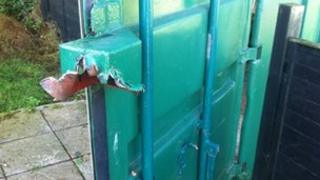 A Suffolk bowls club says it is facing closure after the theft of green-keeping machinery worth £10,000.
A lawn mower, scarifier and spiker have been stolen from a metal storage container at Copdock & Washbrook Bowls Club near Ipswich.
The club said it has insurance, but it needs to replace the equipment by September, so the green can be re-seeded for next year.
Green keeper Tony Coward said: "I personally can't see a way round it."
Mr Coward, who discovered the theft, believes bolt cutters were used to get into the container.
"When I opened up I was absolutely gutted and I went home and I did actually shed a tear," he said.
The club said they had a break-in four years ago, but their insurers were happy with the security measures.
Mr Coward said: "The equipment is vital at this time of year because we do a renovation where we almost completely dig the green up and re-seed it, but if we can't do that we won't have a green for next year.
"I don't know how long it will take the insurers to cough up for us - I can see this could close the club in the worst scenario."
The club said it has had an offer from another club to lend them some equipment, but it does not have the means to transport it.