Folk East festival at Somerleyton expects to break even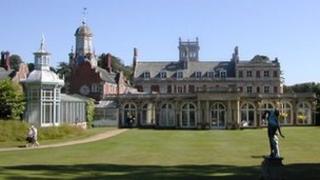 The man behind a new music festival in Suffolk is confident it will attract enough people to break even in its first year.
Folk East takes place over August bank holiday weekend at Somerleyton Hall near Lowestoft.
The promoter said getting 3,500 festival-goers would cover the £300,000 costs of staging it.
Bellowhead, Seth Lakeman and Eliza Carthy are among more than 100 acts who will be appearing.
John Marshall-Potter, Folk East's promoter, said: "I'm working with a lot of people I've worked with for years and years, so I'm able to get some good rates on equipment.
"The average age of the audience is likely to be in the 40s, but folk music is massively popular again.
'Crowded' calendar
"We're licensed for 10,000 and if we can get 5,000 people in for year one then we've done very well."
Ian Anderson, editor of the fRoots folk magazine, said: "There might be space for it, but not on that weekend with Towersey and Shrewsbury festivals.
"Of course I wish it well, because anyone who puts their life and soul into something deserves to do well.
"It is a very crowded folk festival calendar and I'm not sure how much more it can take, but folk festivals seem to be doing better than rock festivals."
Mr Marshall-Potter, promoter, said: "We're right over on the east coast, so it's not competing and a lot of the acts we've got are also playing at Shrewsbury, which has already sold out so we're not stealing any custom from them."
Somerleyton Hall staged a dance and rock-orientated festival called Eastern Haze in 2006 and 2007, but the estate said it was not a financial success for the promoters.
Hazy memories
Folk East will take place in about 100 acres (40 hectares) of the 400-acre (160 hectares) park that the hall is set in.
Lord Somerleyton, the landowner, said: "Nothing hugely difficult happened at Eastern Haze, but there was a lot of litter and sick.
"We're expecting a different event with Folk East in terms of how it's run and the type of person who's coming who's a bit more concerned about the environment.
"We haven't courted any festivals since, but we were waiting for something to come along that wasn't competing with nearby Latitude.
"It's a rewarding fee for us compared to other hire events such as weddings.
"Hopefully visitors will love it and it'll be a treasured memory."