Playford football team seeks sponsor in pants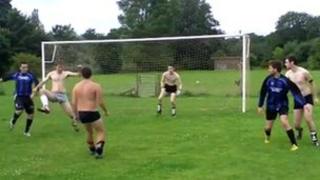 A Sunday league football team from Suffolk has resorted to playing in their underwear in a bizarre bid to attract a sponsor to buy a new kit.
Playford Football Club, who play in the Flowsports Ipswich Sunday Football League, produced a YouTube video to the tune of LMFAO's hit Sexy And I Know It.
The clip features the Woodbridge-based team playing a match in just their underwear, shin pads and boots.
More than 700 people viewed the footage only days after it was posted.
Defender and club captain Richard Jones, 27, who came up with the idea, said: "We wanted to do something that would make us stand out to potential sponsors.
"We're hoping the video might help. It was good fun to make, although slightly odd."
The club - relegated two divisions after conceding more than 100 goals in the 2010-11 season - finished third in the fourth tier of the Ipswich league last season.
They also won the league's fair play award for the third time.
The club was formed in 1998.