Copdock & Washbrook bowls club offered help after theft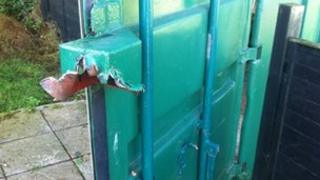 A Suffolk bowls club says it has had dozens of offers of help after green-keeping machinery worth £10,000 was stolen in July.
Copdock & Washbrook Bowls Club feared they would have to close after a lawn mower, scarifier and spiker were taken from their metal storage container.
The equipment is needed to re-seed the green in September, so it is ready for next year.
Other clubs have now offered to lend them machinery.
Tony Coward, green keeper at Copdock & Washbrook, said: "You expect one or two clubs to phone, but we've had dozens offering their machinery and help.
"It's tremendous, very humbling and we're very grateful.
"It's now a question of working out who is nearest and how we can transport the equipment over, but we will now be able to carry out our autumn renovation in September."
The club said there is still a chance the insurance money might come through before September, so they can buy replacement equipment and not have to take up the offers of help.