West Suffolk Hospital gynaecology and pregnancy services move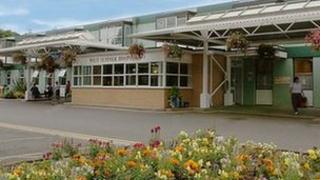 The gynaecology unit at West Suffolk Hospital in Bury St Edmunds is being moved as part of £190,000 ward refurbishments.
The ward will have a new waiting area and the early pregnancy assessment unit will also be relocating to it.
Hospital managers said the gynaecology unit will have two single-bed rooms, which will improve privacy.
The work is due to begin in September and be completed by December.
Patricia Davis, head of midwifery, said: "Relocating the early pregnancy unit will make a big difference, as it will act like a one-stop shop where woman [who experience problems] can be assessed and have an ultrasound without first needing to go to accident and emergency.
"It can be very upsetting for women to experience gynaecological problems, so it is really important that they are treated with sensitivity and can receive their care in the best possible environment."
The number of gynaecology unit beds will increase from seven to eight.
Gwen Nuttal, chief operating officer at the hospital, said: "There's over 2,700 women give birth each year in our facilities and there are hundreds more that we treat on our gynaecological ward, so the return on investment is very quick in terms of the improvements we will make to patients."