Ipswich Town Football Club's Trevor Kirton retires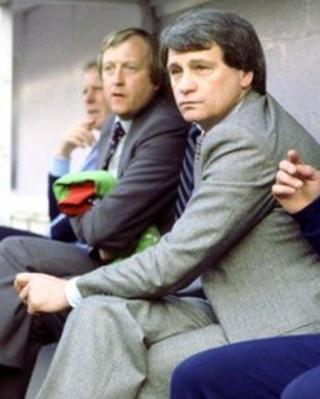 "It's obviously sad, but it would be nice to let someone else do the chasing around and not have the worries," said Trevor Kirton.
The 65-year-old is retiring as Ipswich Town's stadium manager after a 35-year association with the football club.
He started driving for the club while working for a local coach firm and was taken on by the club in 1980 as kit man under Sir Bobby Robson.
Mr Kirton said: "It's [a] 24/7 [job], and the words Bobby Robson said to me were, 'Just remember, you work when everybody else is on holiday - that's football'.
"He was a man-manager and if he'd sold double-glazing or insurance you'd have bought some off him because he was very enthusiastic.
"He might have had a heavy day, but he'd wander into the kit room and ask how you were getting on and he really did look after you."
When the club bought its own coach, Mr Kirton became the official club driver and said they were the first to eat their meals on board and have video.
Mr Kirton was there for the Uefa Cup victory season of 1980-81, and remembers a trip to Lodz in Poland, when they had to hire a separate van for the kit, because it would not fit in the coach.
The coach ended up overturned in a ditch, although Mr Kirton was not at the wheel.
"A lorry load of troops arrived and pushed us back on the road. Off we went and the same thing happened again... This time along came some musicians and took me to the airport.
"That was the worst journey because it was the fear that you didn't know where you were and you were laying in a field in the middle of nowhere."
Mr Kirton became full-time stadium manager in 2000.
Mr Kirton said he did not have a favourite player from his time at the club.
"They were all my favourites and they kept me employed," he said.
Kevin Beattie, who played for Ipswich from 1972 to 1981, said: "We called him 'wheels', and he was a big character and one of the boys.
"He put us in our place if we lit up [a cigarette] at the back of the coach, but we treated him as one of the players really, and we never had any arguments."
'Highest standards'
Simon Clegg, the club's chief executive, said: "Few people in the history of this great club have made such a contribution to matters off the pitch as Trevor Kirton.
"He has set the highest of standards in everything he has done whilst at the same time always striving to save the club money.
"Whilst on occasions he can make Victor Meldrew appear simply angelic, no-one can ever have had cause to question his motivation of doing the best for the club."
The role of stadium manager has meant he has also been in charge during concerts at the ground.
He recalls Elton John remembering his face in 2004, because he had driven him and his entourage to a game at Stoke when the musician was chairman of Watford.
Neil Diamond invited him to his dressing room because the singer had spent the day of his 2005 gig driving around south Suffolk and wanted to talk to someone who lived there.
Mr Kirton, who was born in Ipswich and was taken to Portman Road by his father as a child, said he could now become a fan again.
"It would be nice to watch the team purely for fun and be complaining about everything," he said.