Southwold beach hut sales to pay for cliff repairs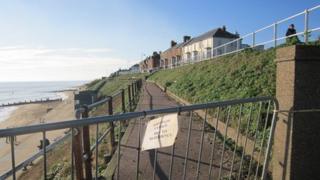 Beach huts are to be sold for up to £75,000 to help pay for restoration of an eroded cliff top in a Suffolk town.
Waveney District Council is planning to build 12 new huts in Southwold, with prices expected to start at £25,000.
The money will be used to pay to reconstruct the Ladies Walks footpaths which have been closed since 2010 due to cliff slippage.
The cliff top and promenade work is expected to cost in excess of £150,000 which would include metal railings.
Sue Allen, Waveney District councillor, called it a "great idea".
"The council doesn't have a lot of spare funds, but Southwold is in the fortunate position of having beach huts which go for so much," she said.
"Ladies Walk has been closed off for a couple of years which is a shame because it was well used.
"We don't know which [cliff] scheme we're going for, but it needs to last for a hundred years."
NPS Property Consultants will build seven cheaper huts north of the pier and it is waiting for planning permission to build five more at Gun Hill, where the wooden huts have previously sold for as much as £100,000.
Tony Rudd, valuer for NPS, said: "There's been a lot of interest registered so we're now in the process of getting prices for construction."