Anthony Ogogo receives hero's welcome in Lowestoft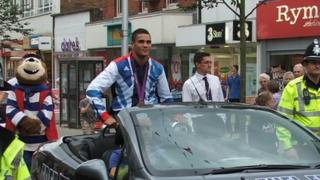 Anthony Ogogo has received a hero's welcome at a homecoming parade in Suffolk.
The boxer, who won a bronze medal at the Olympics, was paraded through Lowestoft in an open top car before stopping at London Road North.
Ogogo said the celebration, which was attended by about 500 people, was a "massive gesture from the town".
"I'm completely overwhelmed by it," he said. "I want to thank everybody, their support means everything to me."
The 23-year-old won three bouts in London, including victory over world number one Ievgen Khytrov, before being beaten in the semi-finals.
'Absolutely amazing'
His mother Teresa, who had a brain aneurysm shortly before the Games, attended the event in Lowestoft.
"She's got to go back to hospital after this, but seeing her here is testament to how strong and amazing she is as a person," Ogogo said.
The middleweight boxer showed off his medal and spoke to the crowd assembled in the town centre.
Emma King, from the Lowestoft Town Management Partnership, said: "He's an absolutely amazing ambassador.
"It's wonderful for Lowestoft. It's a positive, fantastic news story and we're just so very proud of him."
Ahead of the homecoming parade, Ogogo had said he was looking forward to having a rest.
"I'd love to go to Rio and represent Team GB again, but the immediate future is to chill out, spend some time at home with my family and be a good son to my mum," he said.